Aim for benchmark in leadership
Over the past 75 years, Kienbaum has become one of the main Leadership Advisory & Management Consulting firms in Europe. Kienbaum's French subsidiary has been guiding both French and international companies through every step of their executive management cycle for more than 20 years.
Our mission is to provide tailor-made support with high proximity and global reach to listed companies, family-run businesses and diverse institutions. That is why we value cooperation, concrete results and confidence in order to build long-term relationships and to ensure the success of the clients we support. We step in globally for a various range of leaders, from confirmed high potential pools to individual top executives.
We support boards, executive committees and human resources departments in Executive Search, Assessment and Leadership Development, Governance and Executive Pay Consulting. Our multicultural team finds efficient solutions to solve the various challenges of our clients' development.
Embodying the principle of long-term partnerships and confidence, our experts rely on a thorough understanding of organizations, sectors and cultures to offer personalized services to our clients.
Visez le benchmark du leadership
En 75 ans, Kienbaum est devenu l'un des principaux cabinets de Leadership Advisory & Management Consulting en Europe. Présent depuis plus de 20 ans en France en tant qu'entité française de Kienbaum, notre cabinet accompagne des entreprises françaises et internationales, à travers toutes les étapes du cycle de gestion de leurs dirigeants.
Notre mission consiste à offrir aux entreprises cotées, aux groupes familiaux et à diverses institutions, un accompagnement de proximité, sur-mesure et sur un périmètre global. Nous privilégions ainsi la coopération, les résultats concrets et la confiance afin de construire des relations durables et d'assurer le succès des clients que nous accompagnons. Nous intervenons sur des populations allant des hauts potentiels confirmés aux plus hauts dirigeants à travers le monde.
Nous accompagnons à la fois les conseils, les comités exécutifs et les directions des ressources humaines sur le recrutement, l'évaluation et le développement des compétences de leadership et de bonne gouvernance, et sur le conseil en rémunération. Notre équipe multiculturelle s'engage à proposer des solutions efficaces afin de relever les différents défis de développement de nos clients.
Partenaires de confiance sur le long terme, nos experts s'appuient sur une connaissance fine des organisations, des secteurs et de la culture des entreprises, pour offrir aux entreprises un accompagnement sur-mesure.
BAROMETRE SAY ON PAY DU SBF120 – 2019
La deuxième édition analysant les taux d'approbation des résolutions d'assemblée générale 2019 relatives aux rémunérations (pdf-document).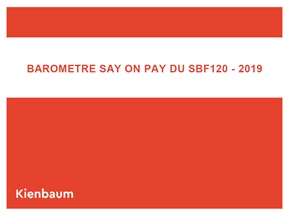 Analyses Post AG 2019 des résolutions sur le Say on Pay, les nominations et renouvellements
Synthèse réalisée par Sofia Sefrioui, Principal, Kienbaum France
Source: www.ifa-asso.com
Do you have any further questions? Contact us!
Kienbaum S.A.
112 Avenue Kléber
75116 Paris, France
T: + 33 1 56 59 12-00